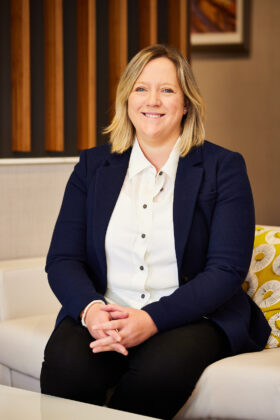 Caddick Group has welcomed new solicitor Lucy Welch in the latest appointment to our growing in-house team, following Helen Gardner taking up the new role of head of legal earlier in the year.
Joining from Knights, Lucy brings more than 10 years of experience in residential development and will be working across the extensive Caddick Group portfolio.
Having completed her training at a boutique law firm in Westminster that specialised in housebuilding, Welch's catalogue of experience includes working for larger law firms, including Addleshaw Goddard, Shulmans and Knights, with clients comprising of housebuilders of all sizes as well as housing associations.
We have made the appointment at an exciting time in the company's journey, following the recent promotion of Helen, who will be leading the legal team. 
The new team will work on projects across the network of companies, including Caddick Developments, the Yorkshire-headquartered developer with a 16 million sqft pipeline of industrial and logistics projects and a pipeline of 11,000 new homes; Moda, the national build-to-rent specialist active in many of the UKs core cities; and Oakgate Group, which focuses on combining finance, development and assess management in and around historic cities.
Commenting on her appointment, Lucy said: "I was attracted to Caddick Group because of its impressive portfolio of landmark projects, particularly high-profile schemes such as Angel Gardens in Manchester and SOYO in Leeds. As a property business that involves several different elements from land, developments and construction teams, it's exciting to be involved with a company that creates genuinely transformative projects from start to finish. Moving in-house will allow me to be much more hands on and allows me to get fully embedded in the projects and what they mean."
Helen Gardner said: "We're delighted to welcome Lucy to the legal team, and wider Caddick Group. She represents the latest in a series of exciting appointments. Her expertise in residential development will prove invaluable to our partners, stakeholders, and portfolio. We will continue to build our in-house legal team to help ensure the Group's needs are met at this time of significant growth, whilst positioning ourselves for exciting future opportunities. In the meantime, we look forward to the progress that Caddick will be able to make with Lucy on board."