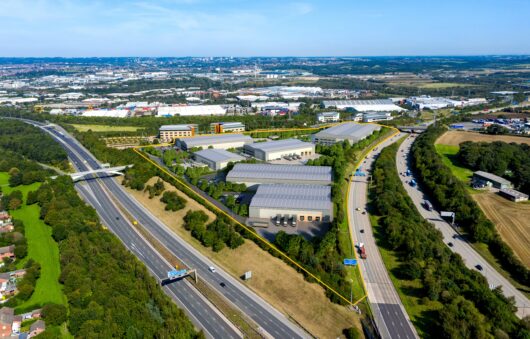 Our landmark logistics and industrial hub located at Leeds Valley Park has been given the green light by members of the Leeds City Council Plans Panel, subject to the officers approving conditions and the section 106 agreement. We expect the scheme to bring a significant economic and employment boost to the region, and establish the site as Leeds' premium 'mid-box' logistics location.
Situated between Junction 44 of the M1 and Junction 7 of the M621, the project – called Leeds Valley Park South – is ideally located for accessing regional and national road networks. The site sits within 15 minutes' drive from Leeds City Centre, making it a prime location to attract local, regional and national businesses. Upon its completion, the 20-acre site is anticipated to create over 500 jobs.
Our proposals include the construction of six logistics and manufacturing buildings of varying sizes totalling 300,000sq ft of high-quality floor space, and will target enhanced environmental standards of BREEAM 'very good' and an EPC rating of 'A'. Special attention has also been paid to the landscaping around the complex creating a welcoming work environment for the staff of the future occupiers.
With strong national levels of demand for industrial and logistics space, Leeds Valley Park South will make a significant contribution to meeting the regional requirements for developments of this quality and type. Given its strategic location and high specification design the scheme has already attracted interest from businesses looking to establish themselves in Leeds.
Jim Dyson, Director at Caddick Developments, said:
"We're delighted with the outcome of the planning committee  and we look forward to working with officers on agreeing the finer details for our plans at Leeds Valley Park South. With its perfect location and high-quality design, the scheme will prove highly attractive for businesses across the region and the nation, establishing the site as the leading 'mid-box' logistics location in Leeds.
"We're especially proud to be bringing forward a scheme which will contribute to the region's economic fightback from the Covid-19 pandemic, by creating 500 jobs and bringing a boost to the local economy.
"Demand is incredibly high for developments of this type and size, and we've already started receiving interest from businesses looking to establish themselves in the area. This is an exciting time for the sector, and our scheme at Leeds Valley Park South will offer flexible commercial space to suit businesses of all shapes and sizes. We are looking forward to commencing construction work as soon as possible"