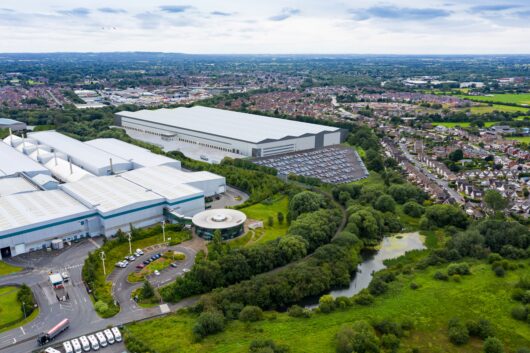 With unprecedented demand for big box units and a lack of supply in the North West, we've updated our plans for Phase 1 of Farington Park.
After gaining outline planning permission for a footprint of 612,500 sq. ft in January 2021, our plans for Phase 1 include a single big-box unit totalling 557,500 sq. ft – one of the largest ever speculative logistics developments in the North West.
The scheme includes extensive landscaping and improvements to the cycle path and bridleway that runs through the site, which is part of the Leyland Loop. This will be upgraded in order to form a link between the nearby wider employment sites, as well as the residential communities across the River Lostock.
An eight-acre recreational area is also being created. This will include the opening of a previously culverted river, and extensive planting and ecological improvements designed to assist in flood alleviation plans for the wider region.
Steve Widdowson, Director at Caddick Developments and Head of the Manchester office, said: "We're pleased to be taking on one of the largest ever projects of this nature in the North West. There's a huge demand for large units in the area, and the Farington Park development should provide an ideally-located solution for a lot of industrial occupiers."
"We're working closely with partners to deliver this big box project, including industrial & logistics specialist KPP; planning consultants NJL; JPG engineers; Urban Green Environmental consultants; CWC MEP; Henry Riley cost consultants and Box Clever project management. The agents for the project are Rob Taylor at Cushman & Wakefield, and Sam Royle at Knight Frank."
Myles Hartley, Managing Director of Caddick Developments, said: "Our vast experience in the logistics sector and integrated construction expertise means we can deliver quickly and with certainty in what is currently a challenging procurement market. Occupiers and funders are very attracted to our delivery model."