We're inviting members of the public to help shape proposals for the latest phase of SOYO, the new neighbourhood at the heart of Leeds' cultural quarter. The proposal for Block A, which would be the final phase of the development, following a successful round of public consultation held in November 2022 for Block D, which is currently awaiting a decision from Council planners.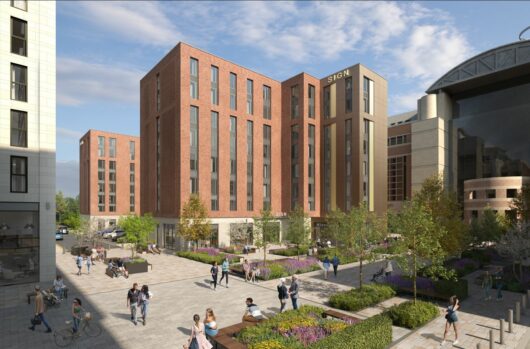 The proposals for SOYO Block A seek to bring an additional 360 high-quality student accommodation units, on top of the 291 units in the proposals for Block D. The accommodation will be comprised of a mix of studio and cluster flats, with students able to enjoy the benefits of living in a vibrant and exciting part of the city. The development will benefit from communal spaces such as a gym with 24hr access, dining spaces, gaming areas and a private cinema, as well as providing a café with outside seating and a bank of accessible parking spaces.
Block A will complete the SOYO project, which has already brought jobs and investment to the city and created over 500 new homes to date. It will also allow the full realisation of an ambitious landscaping scheme that's designed to knit this part of the city back together.
We're inviting the local community to have their say on these plans through an online feedback portal: https://soyoleeds.com/public-consultation/ 
Alistair Smith, our Associate Director said: "The launch of our consultation for Block A marks another key milestone for SOYO, an entirely new neighbourhood for Leeds which is helping to regenerate and enhance the cultural quarter. We received a great response to our proposals for Block D which helped us to refine the plans, and we were pleased to submit a planning application earlier this year.

Block A will be designed to the highest standard and will play a key role in making SOYO a cultural hotspot for Leeds as well as being a truly exemplar scheme for the city as a whole. We're looking forward to hearing from the public and receiving their feedback on this exciting next and final phase of our plans for SOYO"
The work for SOYO commenced in 2018 and Block A represents the final phase of the wider development. Blocks E and F are now open, comprising of 551 studios and apartments, with Blocks B and C under construction and set to deliver additional homes upon completion later this year. Once finished, SOYO will occupy over 1 million square feet of high-quality development, incorporating new shops and restaurants, alongside some of the largest landscaped spaces in Leeds.
The public consultation goes live on Wednesday 5 July, and will conclude on Wednesday 19 July. Residents are being encouraged to provide their feedback via the online portal.